International Diesel Service (IDS) focuses on more sustainable long-haul transport with Hydrotreated Vegetable Oil (HVO)
Wed, 10/14/2020 - 09:17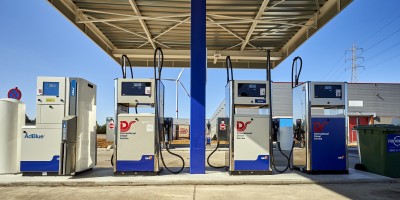 IDS is the first in Belgium to offer 100% fossil free truck fuel. IDS (International Diesel Service), part of the Q8 group, which focuses specifically on international hauliers, is extending its range of sustainable fuels. As the very first in the long-haul transport sector, IDS now offers 100% fossil free fuel in Belgium. The pure Hydrotreated Vegetable Oil (HVO100) is available at 3 fuel stations: Maasmechelen, Meer and as of November 2020 also Herstal.
HVO is a premium diesel product made entirely from renewable raw materials. It is the most sustainable fuel for diesel vehicles on the market with 30% less emissions of particulate matter, 9% less nitrogen oxide (NOX) and even 90% less CO2 compared to regular diesel. This pure HVO (HVO100) can perfectly be refuelled in ordinary diesel engines (EN15940), without any modifications being necessary. 
 
More sustainable truck transport
International Diesel Service is strongly committed to HVO100 in order to anticipate on the market shift towards more sustainable fuel for long-haul transport. IDS is now the very first to offer this fossil free fuel in Belgium at a dedicated truck station. This is following successful launches in Sweden and Denmark, where IDS offers HVO100 to its customers at more than 20 sites. HVO100 is available at 3 IDS filling stations: Maasmechelen, Meer and as of November 2020 also Herstal. All 3 stations are located on main international transport corridors close to the border with the Netherlands and Germany.
 
Pioneering role
Thanks to this new offer, IDS hopes to make a significant contribution to reducing CO2 emissions from long distance traffic. "This is an important new step towards a more sustainable offering at our stations. We will monitor closely how our customers react to these sustainable fuels and will keep adapting our offering accordingly," says Hans Kats, Director Global Cards Business. "We are proud that with this HVO100 offer we can take a pioneering role and meet the needs of our customers and society".
 
50 sites with sustainable fuels
A frequent customer dialogue and constant observation of regional trends, enables IDS to create a balanced product range. HVO100 adds an extra fuel to the existing sustainable product range, containing LNG, CNG and HVO20. Over 50 sites in the international IDS network offer sustainable fuels.