Lübeck as the starting shot: Rolande and IDS-Q8 announce international cooperation for a European LNG filling station network
Fri, 03/12/2021 - 10:51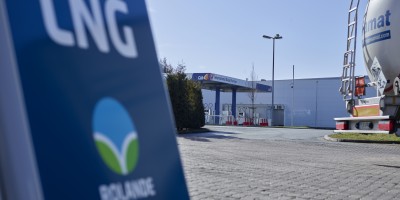 Perfect synergy for building a comprehensive LNG station network in Europe

Second joint filling station in Lübeck on the A1 is the central location for the LNG filling station network in Northern Germany and Europe

Port of Lübeck is an important logistics hub

The filling station is prepared for bio-LNG
Rolande, pioneer and market leader for building infrastructures for truck liquefied natural gas and bio-LNG (Bio-Liquefied Natural Gas) in the Netherlands, is expanding its network at the Lübeck location of IDS-Q8. This is the first filling station in Germany opened in cooperation with Kuwait Petroleum Corporation subsidiary IDS-Q8, one of Europe's leading fuel card providers and owner of an international network of truck dedicated filling locations. In addition to the base in Lübeck, this cooperation already operates an LNG filling station in Rotterdam, Botlek (Netherlands). In combination, the two fuel specialists connect two important locations in the transport sector: the ports of Rotterdam and Lübeck. They ensure that all incoming goods are transported economically and sustainably to their destination. By the end of the year, two other stations will be opened at the IDS-Q8 locations in Grasdorf and Ziesar as part of the partnership. In addition to first-class locations in Europe, customers also benefit from the option of paying with the IDS-Q8 fuel card at Rolande LNG stations.
"Together with IDS-Q8, we are building a European network for environmentally friendly fuelling and at the same time profitable truck freight transport at central locations such as Lübeck. The port is an important logistical hub for northern Germany and all of Europe", says Jolon van der Schuit. "Rolande's goal is to create an LNG network that covers the entire European continent. To achieve this, Rolande is building on its own locations, but also on long-term partnerships. With the expansion of the public LNG filling station network, together with our partner, we are realising another important building block in the quest for climate-friendly logistics in Europe. "
"IDS-Q8 is committed to a more sustainable offering. We continuously monitor our customers' needs to make sure we anticipate accordingly. The expertise of Rolande is highly valued and we are proud of adding more LNG locations to our network", says Hans Kats, Director Q8 Global Cards Business. "This contributes to a significant reduction in CO2 emissions by long distance traffic, which is in line with our company objectives."
Public CNG / LNG filling station - prepared for bio-LNG
The facility at the IDS-Q8 location in Lübeck is at an important traffic junction in northern Germany on the A1 and is a classic, public, 24/7 self-service filling station. With two LNG pumps, the filling station has a daily capacity of up to 150 vehicles and guarantees quick refuelling without long waiting times. Thanks to the generous entrance and exit, the filling station has an optimal lay out for heavy trucks. It is making a significant contribution to gradually establishing LNG as a more environmentally friendly fuel. Until December 31, 2023, trucks that run on compressed or liquefied natural gas will continue to be exempt from the road toll in Germany. In this way, operators save 18.7 cents in road tolls for every kilometre they drive. LNG trucks are therefore not only sustainable, but also economically attractive.
Bio-LNG
Bio-LNG is a 100% biological fuel that can be obtained from certified waste such as household organic waste, sludge, manure or agricultural waste. It is low-emission and climate-friendly with a high energy density and can therefore help to achieve climate protection goals in traffic. Bio-LNG is liquefied bio-methane or liquefied synthetically produced methane. It has the same chemical properties as LNG, but has drastically lower CO2 emissions. Compared to a diesel truck, the NOx and particle emissions are significantly lower. When using biogas, up to 95 percent CO2 can be saved.
About Rolande
Rolande celebrates its 15th anniversary in 2020. Over the course of its corporate history, Rolande has been instrumental in establishing the liquefied, cryogenic natural gas LNG as a fuel for road freight transport and continuously expanding its possible applications. This includes, for example, the development of bio-LNG, which can be produced from organic bio-material in a completely climate-neutral manner. Rolande develops, builds and operates its own network of LNG filling stations in Europe, focusing exclusively on LNG and bio-LNG. Rolande currently has the largest number of LNG locations in the Netherlands. With the introduction of an LNG filling station network in Germany, Rolande is taking an important step towards developing a European LNG filling station network. Further information at https://rolandelng.de/.
About IDS-Q8
With over 750 sites at key locations throughout Europe including border crossings and major transport and trading centres, IDS-Q8 is a business dedicated to the fuelling needs of long haul and international road transport companies. All stations are open 24/7 and easily accessible by trucks. IDS-Q8 offers its customers market-leading security & control solutions for fuel transactions. With 100% safe fuel cards, IDS-Q8 offers maximum protection for the main expense line of transport companies.
Together with a high-quality product line and additional services, IDS-Q8 is one of Europe's leading fuel-card suppliers. This enables IDS-Q8 to take on an important role in sustainable fuels for long distance traffic with over 50 filling stations in the international IDS network offering LNG, CNG, HVO20 or HVO100.
IDS-Q8 is part of Kuwait Petroleum International, a subsidiary of Kuwait Petroleum Corporation, one of the world's largest oil producers.