IDS launches the first contactless smart fuel card for the professional transport market
Thu, 02/02/2017 - 12:48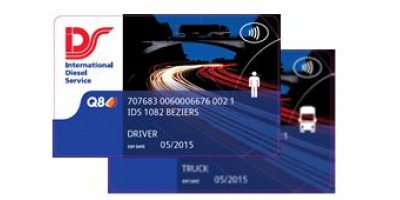 International Diesel Services  is the first fuel supplier to launch a contactless smart fuel card for its customers in the transport sector. With this new contactless fuel card, IDS is taking secure and controllable refuelling to a new level for professional transporters. The new IDS fuel card is a contactless smart card with RFID chip and personal PIN number. These cards do not have to be inserted into a payment terminal, which makes transactions safer and faster and guarantees the highest level of security. With the launch of this card, IDS is strengthening its position as provider of the most secure fuel solutions for the professional market.
IDS already has secure petrol stations with a central online authorisation check for each transaction, a security team that monitors all transactions daily including a 24/7 customer service, which, for example, can block a driver's card in the event of theft. Moreover, IDS customers can go to our website and manage, block or set the maximum amount of fuel that can be filled themselves at any given time.
The contactless cards are equipped with a state-of-the-art RFID chip. This makes the IDS cards the high-end solution for the transport sector. The contactless smart card is read by holding it in front of the payment terminal, after which the PIN can be entered and the transaction authorised centrally. The cards are developed according to the most up-to-date security standards.
Continued innovation
While this new contactless fuel card gives IDS a leading position in fuel transaction security, the company will continue to innovate and will be launching a contactless duo card solution in the future. This solution works with a lorry card and a driver's card: the first card has to be kept in the lorry. Like a debit card, the second card is personal and linked to one specific driver and the PIN is only known to him. The fuel will only be released if both cards are registered centrally at the same location and the correct PIN is entered.
"Security and control are paramount at IDS. We have on-site cameras, central online transaction authorisation and a security team that continuously tracks and investigates suspicious transactions. The launch of these new fuel cards is another step in our endeavour to provide the highest security and most comprehensive control in the market," says Pieter Declerck, General Manager at IDS. "For the average transport company, fuel consumption accounts for 35% of their total costs. By launching this smart card Europe-wide, we are offering transport companies a new solution for addressing the risks at national and international level." 
"Contactless smart card increases security when refuelling" - Mr. Pieter Declerck, General Manager IDS Europe